Welcome
Upcoming Concerts

Festive Brass 2013
Tuesday, December 10, 2013 at 7:30 pm
Ring-in the Holidays and join-in with the festivities as Capital BrassWorks shows Santa what it means to have some class!
News
New CD Released: Brass Britannia!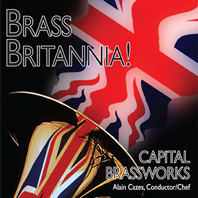 Follow us on our New Blog or on Twitter
In addition to our email list, you can now get the latest Capital BrassWorks news and up-coming concert announcements on our new blog!
You may also follow us on Twitter for the latest updates.